Reiki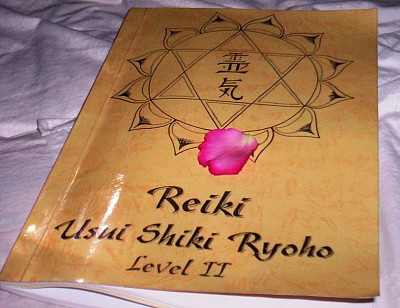 In the Japanese language,
'Rei' means 'spiritual essence common to all living beings';
'Ki' means 'energy' and also 'spirit' or 'consciousness',
the life force of all beings and phenomena.
'Reiki' is a universal energy present in all beings,
which heals the body and balances the mind.
What is Reiki?
Reiki Usui Shiki Ryoho is the name in Japanese for the Natural Healing Method of Reiki as taught by Usui Sensei. This method was re-established as a healing technique in Japan at the end of the 19th century and into the beginning of the 20th century. Its origins are believed to be in ancient Tibetan hands-on healing practices, while the philosophical foundations are intimately connected to teachings of morality, concentration and wisdom.
Reiki is a a natural healing technique employing only one's bare hands for the practice itself. Reiki can be applied to heal the body, balance and calm the mind, harmonize and enhance the energies, while encouraging and supporting a process of internal growth, understanding and spiritual development. It is at times hard to comprehend how all this happens by simply placing the hands on or off the body or anywhere else the intuition guides towards. The beauty of this method lies in its simplicity!
The Reiki method I teach is called Usui-Tibetan Reiki and is based on the traditional Usui Reiki methods with a Tibetan "twist". Clarity of intention, a compassionate attitude and unconditional giving are an essential part of the practice in this method, as is the understanding that in essence true healing comes from within.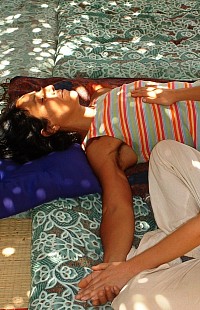 Reiki- heart chakra and hand palm center, connecting, balancing and energizing
Reiki Level 1
5 days (25-30 hours)
Course content:
initiation, or attunement, for Reiki level 1
Reiki principles, guidelines and philosophy, and practical applications in daily life
learn how to give yourself a Reiki treatment hands-on/hands-off healing with proper and sensitive touch
learn how to give others a Reiki treatment in the same manner as to yourself
a basic introduction to the body energy centers (the Chakra System)
lectures and discussion, individual and group practice, question and answer periods
Prerequisite for Level 1: none
Reiki Level 2
5 days (25-30 hours)
Course content:
initiation, or attunement, for Reiki level 2
learn in-depth about the traditional Usui Reiki symbols, their significance and symbolism pertaining personal spiritual growth and practical uses
group and individual exercises with the symbols, and hands-on practice
more comprehensive study of the Chakra System (energy centers) and archetype correspondences
application of the Reiki method to promote self-awareness, balance and harmony of physical, emotional and mental aspects, and as a support practice for personal enhancement
Prerequisite for Level 2: Completion of any Reiki Level 1 course, taught by me or another.
Reiki Level 3 - Reiki Teacher (Master Level)
In this course there are two possible paths:
For self-practice and therapy - In this course there will be an initiation into Reiki Level 3 and the learning of the 4th symbol, the Master Symbol, which can be used in different ways to enhance the potential for balance and harmony, as well as increase the healing process. This is a direct continuation of the work and practice of Levels 1 and 2.
For teaching purposes - This course will include the initiation into Reiki Level 3 and the learning of the 4th symbol as mentioned above. In addition, the course will include learning how to initiate and teach Reiki to others. This option is for those who have an inclination to share this method with others through the transmission of initiation and teaching. Being a teacher of Reiki is in itself a potential self-learning process for the teacher.
Level 3 is the last level of initiation of the Usui Reiki method. The choice as to which course to take depends on your personality and inclinations. If you choose the first option, you may at any time in the future supplement the necessary training and information to become a Reiki teacher.
In case of uncertainty about which is the most suitable choice for you, we may discuss it together. As it is a personal course, not done in a group, Level 3 will be a course created by you and me, student and teacher, on an individual basis. Together we will structure a program suited to your needs, your personality and your path of healing and self-cultivation. The length of the course and the number of teaching hours will vary according to the content of the program. This program will reflect your intentions and goals.
The program may include some or all of the following:
(In addition to the initiation and 4th symbol teaching mentioned above)
observation and/or assistance in courses of Level 1 and Level 2
observation and/or assistance in Reiki treatment sessions
learning teaching methodology
instruction on practices for self-cultivation, such as meditation, yoga, qi gong
recommendations for changes in lifestyle habits, nutrition, exercises, etc.
diagnosis and treatment sessions to resolve personal problems and relevant issues
counseling and instruction regarding choices, path, personal growth, etc.
Prerequisite for Level 3: Completion of Reiki Level 2 course, taught by me or another, and a personal interview.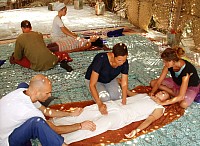 Reiki Course - group session, many hands on person, healing hands work in unison to give a powerful treatment.
Reiki Therapist
5 days (25-30 hours)
Objectives
This course is for those who have completed Reiki Level 2, and have already practiced and accumulated some experience and understanding about the Reiki method. In this course we delve deeper into the Reiki practice, your own practice as well as working with others in a clinical environment.
Course content:
enhance your personal Reiki practice and your understanding of the potential of this method to serve as a support for a healing process of another person
an introduction to the Chakra Energy System
healing practice exercises will focus on intuitive work
additional diagnostic tools, scanning, observation and palpation
lectures and discussion on the subject of what it means to be a therapist/facilitator, acting as a supporting element in the healing process of another
clinical topics - creating a proper therapeutic environment, therapist ethics, patient-therapist dynamics and self-cultivation of the therapist
Prerequisite for Reiki Therapist: Completion of Reiki Level 2 with me or any other teacher.
Reiki - When and Where
Reiki courses are taught wherever I am located, which in the past years is mostly in India (Goa), Thailand as well as other parts of Asia, Israel and Europe. To see a current schedule click here.
In general
Body-Mind Cultivation
All courses will include practices for the personal development of the therapist to promote a general sense of well-being, self-awareness and understanding, relaxation and harmony of body and mind. Such practices may be grounding, meditation and Qi Gong.
21-Day Cleansing Period
It is beneficial to have some time between the study of Reiki levels, so you can integrate, practice and understand what you have just learned and experienced. A 21-day cleansing period is a recommended minimum, while 3 months is even better. For some people the time in between courses is longer or shorter, and this is perfectly fine. It is a personal matter, and depends on your feeling. This can be discussed on an individual basis in a personal interview. If the time is right you will know it.
Old Students
For those who have learned Reiki with me before and would like to assist or re-do a course, contact me in advance to check different options.
Reiki treatments are available at any time, wherever I am located. You do not have to be a student in a course to receive a Reiki treatment. Treatments are beneficial for general relaxation and harmonization or for specific conditions. Before taking a Reiki course, it is worhtwhile to receive a Reiki treatment to feel and experience what Reiki is for you.
For more information on treatments and setting an appointment for a Reiki session click here.
Course Fee
Payment for all courses and treatments is based on a Sliding-Scale Donation fee.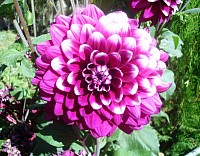 for reflection ... and inspiration
Do not accept anything simply because it has been said by your teacher,
Or because it has been written in your sacred book,
Or because it has been believed by many,
Or because it has been handed down by your ancestors.
Accept and live only according to what will enable you to see Truth face to face.
(Buddha to the Kalama clan, Kalama Sutra)