Integrated Zen Shiatsu Courses
A comprehensive & intensive program.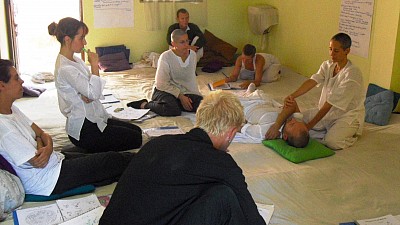 Zen Shiatsu Level 3 - meridian study, theory and practice
A holistic learning experience for acquiring knowledge and skills in 
the healing art of Zen Shiatsu.

Together with cultivating personal 
health of body and mind, 
this is one integral training. 
What are Integrated Courses?

Participants in integrated workshops, courses and training programs acquire skills in a variety of techniques and tools, drawing on different sources - Shiatsu, Traditional Chinese Medicine, Western Medicine, Reiki, Rocking, Knowing Touch, Pilates, Yoga, Qi Gong, Do-In, Anatomy and Physiology, Relaxation, etc. 
The concept of integration is in the way the subjects are taught. The specific technique or practice is transmitted, as well as related or complementary subjects to support and enhance this practice. Integrated courses enlarge the scope of the teaching, and giving a more in-depth and rounded understanding of the course material. The course participants are introduced to a holistic approach regarding the application of the techniques and their general well-being as a person and practitioner. 
Upon completion of a course the student has  - 
 knowledge and practical experience in the relevant subject matter
 foundations and tools for personal cultivation of physical and mental balance.
The practices and techniques can be learned in separate courses/workshops or combined as longer comprehensive programs.
The Zen Shiatsu Integrated Course in its full, comprehensive format, as detailed on this page, is the longest of the intensive programs. Here are taught the foundations for giving a complete, basic and holistic Zen Shiatsu treatment that addresses imbalance and disharmony which may manifest in the physical, the emotional and the mental levels of a person. It is a study program encompassing approximately 300 teaching hours, for those interested in a serious and professional approach to the therapeutic bodywork method of Zen Shiatsu. 
(In this course all the subjects are taught as one unit, although smaller combinations or independent workshops are possible.)
A person completing the Shiatsu training program will have the skills necessary to begin a therapeutic practice with shiatsu as a main technique, able to -
Give a general relaxing and harmonizing treatment of Zen Shiatsu,incorporating elements of physical bodywork as well as energy-based techniques, combining the key elements of intuition and sensitivity of touch into the practice;
Give a treatment that attends to specific conditions and disorders, a more 'therapeutic' session, using additional tools for diagnosis, such as hara diagnosis (palpation of the abdominal association areas), meridian palpation, basic knowledge of Chinese Medicine theory and questioning.
After this course, one can practice Zen Shiatsu on family members and friends, accumulate practical experience and get a 'feel' for the technique, its benefits and possibilities. With the gaining of experience and knowledge comes the self-confidence to give Shiatsu to those in need of therapeutic treatments as well as relaxing and balancing sessions.
Continuing studies to advanced knowledge and techniques are possible for the aspiring Zen Shiatsu Therapist, as there is much that can be learned in the field of natural therapy and shiatsu, practical as well as theoretical, to become a highly-skilled, professional and responsible therapist.(For more on this subject see the section below on 'Diplomas and Accreditation') 
Hara and meridian work - balancing kyo and jitsu through the hara and meridian tsubo energy
Zen Shiatsu Integrated Course

The Zen Shiatsu Integrated training program has been created to provide one complete learning experience, one unit building up on the previous one and leading into the next one. The continuous and intensive format serves and benefits the learning process.
 - course units & content
The 'Zen Shiatsu Integrated' program includes the following units:

Zen Shiatsu levels 1, 2, 3  - treatment sequences, bodywork techniques and body mechanics, energy work, rocking, hara diagnosis and meridian work, tsubo work with kyo ad jitsu, foundations of TCM theory and points, basic clinical skills and ethics, contraindications for treatment, special cases.  
Knowing Touch - a special segment in the course, dedicated to the basic elements essential for the attentive and sensitive communication between giver and receiver and inter-personal dynamics in general.  
Wu Xing - a special segment of study and experience of the 5 Phase Theory.   
Clinical Preparation - simulation of the clinical environment of a Shiatsu treatment.
Body-Mind Cultivation -  qi gong, do-in, yoga, meditation and self-healing.
 *** For more details on each study unit, go to the relevant page by clicking on the unit name.***
Zen Shiatsu Levels 1, 2, and 3 comprise the main study of the Zen Shiatsu technique and the theory that stands at its root. Knowing Touch and Wu Xing are both intimately linked with the foundations of Zen Shiatsu, focusing mostly on experiential learning. The Clinical Preparation is a holistic integration of the complete program. Qi Gong, Yoga, Do-In and Meditation practices are incorporated in all the units as tools for the practitioner's personal growth, self-cultivation and development. 
All integrated courses emphasize and focus on hands-on practical experience, through exercises and exchange of bodywork among participants. The theory contributes toward a more profound understanding of the philosophical, practical, clinical and diagnostic aspects of the technique. 
*** The complete Zen Shiatsu Integrated Course is taught yearly in south India, in Arambol, Goa. 
For  schedule and registration for the next course click here. ***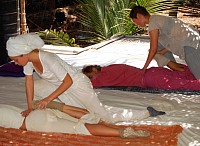 Zen Shiatsu - a complete treatment at the end of the course, applying all knowledge and experience.
- course itinerary & format
Schedule: This complete training program is usually given once a year in an intensive and continuous schedule lasting 10 -12 weeks. The total number of hours is approximately 280-300 hours of instruction, study and practice. To see upcoming course schedule click here.
(Variations in the internal course format and unit/segment dates could occur, due to special or unforeseen circumstances. These changes are mostly technical and do not affect the course content and teaching hours.)
Classes and breaks: Classes are usually in the morning, 4-5 hours a day, with 1-2 break days every 3 or 4 study days. Longer breaks interspersed between units/subjects are intended for practice, review and integration of theoretical and practical material, as well as for personal time and rest.
Extra practice: During break days and afternoons there will be a pre-set schedule for supervised and/or unsupervised practice sessions. Students will have access to use the shiatsu dojo (practice room) for individual practice and review of study material with other course-mates.
- full & partial participation
Group size: There is a limited number of participants in each course, to allow maximum personal attention to each student, and opportunity for feedback, corrections and questions to be dealt with appropriately. The small group size also creates an environment where friendship, personal comfort, trust and mutual support can arise between students, an atmosphere which can raise the general course study level.
(The full program will take place with a minimum of 6 participants. In case of less than this minimum, all or part of the program will be taught, to be decided at the relevant time.)

- full participation: Due to the limited number of participants, priority is given to full-course participants and advance registration is recommended.

- partial participation: Participation in part of the full program is possible, pending space availability, individual consideration and suitability. It is not always suitable to join only for part of the program, for reasons concerning the content of the specific study unit which may depend on previous units, course dynamics or other reasons.


Registration: Course registration commences as soon as dates and venue are set, usually 3-6 months in advance. To register and reserve a place in the program click here.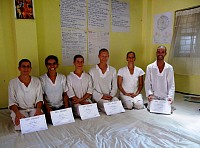 Integrated Zen Shiatsu course 2010/11 - the last day, with well-earned diplomas and bright smiles
Zen Shiatsu Diploma and Accreditation
The comprehensive Integrated Zen Shiatsu training program is similar in practical and theoretical content to other study programs of well-known and recognized Shiatsu schools in UK, Europe, North America, Australia and Japan.
There are subjects in this integrated course which are not found in the standard programs. Students of this training program have been accepted to continue their studies in respected schools of Shiatsu in the UK, Netherlands, France, Belgium, Canada, Israel and even in Japan (in Namikoshi and Masunaga schools!). Their knowledge and experience were found relevant and compatible, while their therapeutic competence and bodywork skills were acknowledged and evaluated as proper, correct and worthy of consideration.
Upon completion of the Integrated Zen Shiatsu courses, participants receive a diploma of certification. Some learn Zen Shiatsu as a skill for personal interest and well-being, and for sharing with family and friends, while others have an interest in it as a profession, to become a Zen Shiatsu Therapist.
Those who intend to work as Shiatsu therapists should inquire about the legal requirements and procedures necessary for such a practice. At present, there is no international standard for the practice of Shiatsu, every country having its own rules and regulations. In some countries there are no regulations and no constraints on practicing Shiatsu, while in others there may be an association or institution responsible for evaluation and licensing of Shiatsu therapists. Theoretical as well as practical knowledge may be put to the test by professionals in the field of Shiatsu. This state of affairs is dynamic, constantly changing, and needs to be checked at the relevant time. There is a definite process of evolution in the understanding and recognition of natural therapies as complementary to existing modern medical procedures.
Students of the Integrated Zen Shiatsu training have received accreditation and recognition, full or partial, by licensing authorities, as well as other schools of Shiatsu, TCM (Traditional Chinese Medicine) and other Natural Therapy study programs. Accreditation was given on the basis of the diploma, curriculum and course content, while certain subjects required additional studies for licensing.
Regarding continuing study and training, past experience of Integrated Zen Shiatsu course graduates is positive. Schools and programs of Shiatsu, TCM, naturopathy and even physiotherapy give partial or full accreditation, allowing entry into existing study programs and requiring to supplement the necessary academic courses and credits for the specific studies. Tuition and class requirements are adjusted accordingly.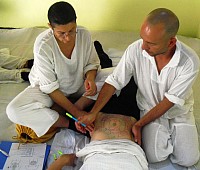 Zen Shiatsu 3 - learning and mapping the hara diagnosis and locating the energetic organ association areas on the body.
Most schools of TCM and Naturopathy require students to take complementary courses in bodywork therapy, a practice from the martial arts (such as qi gong or tai chi), and other extra courses for personal enhancement (like meditation, yoga, etc). The Integrated Zen Shiatsu program includes exactly such techniques as an inherent part of the training, and this will also qualify as curriculum credits for future studies.
In general
Former students and assisting: Those who have learned Zen Shiatsu with me before and wish to assist in a course, re-do a course or unit, or continue from where you left off, can contact in advance to check options and make necessary arrangements.

Shiatsu students/practitioners: Persons who have learned Shiatsu in the past in any form and wish to join the whole program, specific units or assist a course, can make contact in advance.

Zen Shiatsu treatments: Before taking a course, it is worthwhile to receive a treatment to feel and experience what is Zen Shiatsu. Treatments can also be beneficial for general relaxation and balancing of the body or for specific conditions. Course participants can also receive treatments while taking the course. For more information on treatments and setting an appointment click here.

Fee: Payment for courses is based on a Sliding-Scale Donation. For more information on registration and payment click here.

Information: For any further inquiries and details click here.